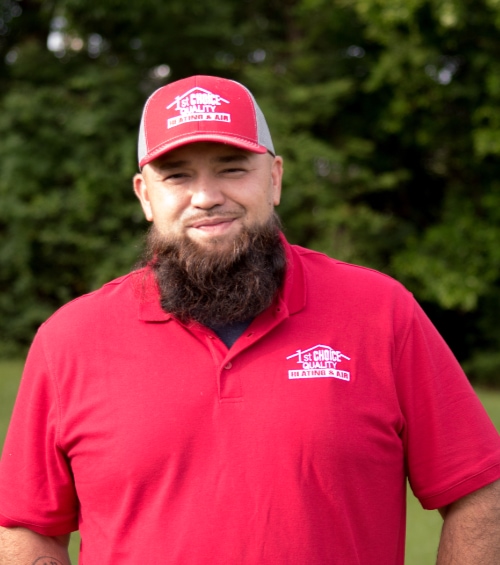 Damien Shauf
Lead Tech
"Many thanks to Bill and all the technicians for your prompt, and expert care this past week…Joseph, Damien, Chris, Robert, Darrell, Freddie, Key, Eric , Theo – your hard work, kindness, professionalism, knowledge and politeness, was all above exceptional!! To Each and everyone, whose names we did not get, like the people who brought equipment, and including Tammy, Bobbi, and all the office for your kindness each and every time !! I think the message we are trying to express is THANK YOU TO ALL…………….!!"
- Harvey & Kathy N.
"Again Damien did a fantastic job. He explained everything he did and answered all my questions. Tammy also kept me up to date on when Damien was arriving and called after the work was complete to make sure everything was done to my satisfaction. Anyone needing HVAC work should call 1st Choice for excellent service."
- Nicholas G.
"Damien Shauf performed maintenance at my home today. He was very professional, knowledgeable, thorough and meticulous. Damien really represented 1st Choice Quality well and I am really impressed. Thank You!"
- Joyce R.
"Called Bobbie Sunday afternoon that our air unit was out. She quickly jumped in to help us and schedule a tech to come out today. She was very helpful and reassuring that she would take care of us. She told me to call her if we had any problems or issues. I really appreciate everything she did to help. She assured us that you have the best techs and that you take very good care of your customers. Start to finish it was a pleasure working with your team. Damien was awesome very quick knowledgeable and helpful. He did a wonderful job. I would highly recommend your company. Thank you!"
- Brenda S.